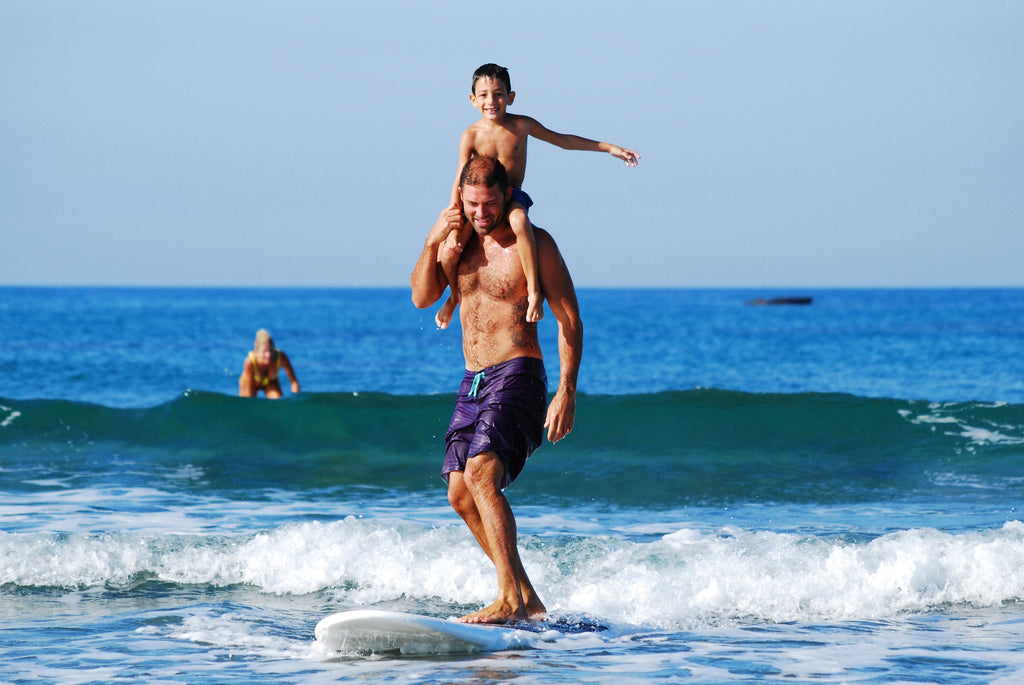 If your dad likes to explore the Great Outdoors, you'll want to reward him this Father's Day with the types of practical gifts that will make that possible, regardless of the weather outside. Whether your dad's passion is cycling or hiking, fishing or camping, you'll want to make sure that he's prepared for every season of the year with the best outdoor gifts.
#1: Timberland Earthkeepers Boots
There's so much we love about these Earthkeepers boots. For one, they're rugged, practical, and rainproof. But more importantly, they're designed with the Earth's sustainability in mind. The outsole? It's made of recycled rubber. And the inner liner? It's made of 100% recycled fabric. So every boot is really about making the Earth a better place. These handsome, lace-up leather boots can be worn while hiking or fishing, or even while grilling outside in the backyard during a family barbecue.
It's one thing to be a Recreationalist in the warm summer months. But what about during the freezing cold temperatures of winter? That's why your dad will love these Yatta Life Trail Spikes. They fit over any boot or shoe, and allow your dad to go trail running through the ice or snow when the temperatures dip below freezing. The trail spikes combine a rubber elastomer upper with a sophisticated system of stainless steel spikes designed to grip any surface – even hard packed snow or slippery ice. And they're easy to slip on and slip off, as well as being highly portable. If you're already planning to buy dad a pair of new boots, why not add in a pair of trail spikes as well?
#3: Yatta Life Waterproof Socks
And, of course, no trip to the Great Outdoors would be complete with a pair of high-quality, completely waterproof socks. They are simply a must for the modern outdoorsman. These weatherproof socks, designed with a bamboo rayon inner and a 98% nylon outer layer, work as well as when it's sunny as when there's a sudden torrential downpour on the trail. They're flexible and even offer a bit of compression, ensuring that you're always at your best, even at the end of a grueling mountain hike. And these socks come in colorful patterns, ensuring that your dad looks stylish as well on the trail.
#4: Home Depot stainless steel BBQ toolkit
If there's one summertime activity that evokes memories of dad, it's summertime grilling. And Home Depot has created a sleek, stainless steel toolkit that will enable dad to grill burgers, chicken, or vegetables. The toolkit consists of a basting brush, spatula, fork, grill brush and tongs. What better way to kick off the summer than a family barbecue with an all-new stainless steel BBQ set?
5. Oakley Targetline Aero Flight Collection
Keep your dad looking cool and protecting his eyes during those sunny day adventures.  If you really want to do the dad on your list a solid, get him a pair of the new Oakley Targetline Aero Flight Collection Shades.  These shades are multipurpose, whether you're out for a run, a round of golf or taking a drive to the grocery store, these sunnies fit all the occasion.
 **
This Father's Day, you simply can't go wrong with any of these gifts. They're all rugged, practical and tailored for the modern Outdoorsy dad. If you enjoy spending time with dad outdoors, you'll want to brighten up his life with the best outdoor gifts.