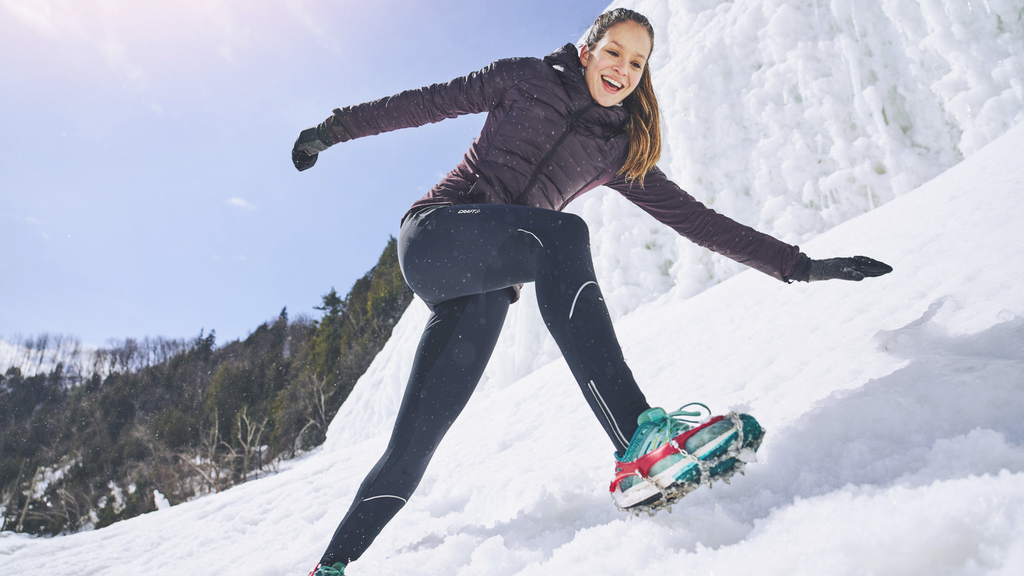 The cold temperatures and icy conditions of winter should never hold you back from reaching your fitness goals. For that reason, Yatta Life has created a line of high-quality winter traction systems that are designed with the outdoor enthusiast in mind.
The most popular items are the Yatta Life Trail Spikes, which come a variety of sizes and colors to match your fitness style. The fundamental feature of each of these winter traction systems is an interlocking chain of stainless steel spikes that fit easily over shoes and boots.
This ease of use is a very important point to keep in mind – it means that you can transform your favorite pair of trail shoes or running cleats into a winter traction system. Imagine being able to run along icy or snowy trails, all without any fears of slipping and falling. The Yatta Life Trail Spikes are simply the best ice cleats for hiking.
But Yatta Life recognizes that not all outdoor enthusiasts happen to be located in areas with wilderness and trails right outside their windows. That's why the company has also designed a new line of Urban Spikes, which are perfect for the city dweller who still wants to get outside as often as possible during the long winter months.
These Urban Spikes are designed specifically with urban asphalt and concrete surfaces in mind. Yes, they can be worn in outdoor parks, but where they really shine is on city streets. It's a traction system that can be used for walking on ice, and also for running on hard-packed snow.
Each shoe grip can be adjusted to the size of your shoe or boot, and then easily slipped right over. A high-quality, durable rubber elastomer stays snugly in place, ensuring that these ice grips move and conform to your body's own natural movement. They are adjustable to your specific size. Thus, there's no slipping or sliding, and no worries about being slowed down by an imperfect fit.
Ease of use for the modern recreationalist
Wearing snow spikes for walking boots can take some getting used to at first, but once you discover how much additional freedom they give you to go anywhere, you'll want to take them with you everywhere. Yatta Life traction devices for shoes are designed to be easily stowed away and packed, such as in a backpack or weekend bag.
Even if you're just headed to the local neighborhood store for supplies and groceries, you can wear Yatta Life ice spikes across a potentially slippery parking lot. And no more worries clearing your home driveway of snow – you can simply put on your Yatta Life ice traction cleats and never have to worry about a slip or fall again.
Across North America, outdoor enthusiasts are discovering the ability of Yatta Life winter traction systems to open up the potential for winter fitness, even during the coldest days. They are wearing these ice spikes everywhere, confident in the top-quality winter traction they will get. Ice or snow, you'll have the peace of mind of knowing that stainless steel spikes give you state-of-the-art traction, no matter the weather. It's time to join the movement of recreationalists at Yatta Life who are getting outdoors year-round.